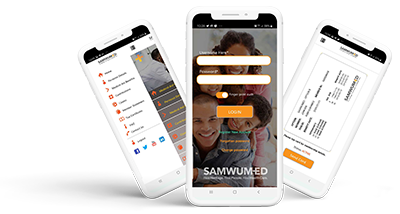 New SAMWUMED MOBILE APP
You no longer have to call and queue on the Call Centre to get your information!
For all of us Cell Phones have become part of our lives. We cannot imagine our lives without them! Not only do they allow us to keep in touch with our loves ones, but they also store our memories.
SAMWUMED is giving you another excuse to love and value your Cell Phone. You can now use your Cell Phone to carry your medical aid everywhere you go. The new SAMWUMED Mobile App allows you to see your medical aid information conveniently at the palm of your hands. Anywhere and anytime.
MOBILE APP FEATURES
With a touch of a button you can see:
Your Membership Card (In a digital format)
Your Medical Aid Benefits
Your Contributions
Your Statements
Your Claims
Your Tax Certificate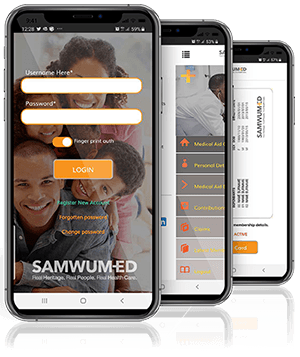 You can get the App by downloading it from Google Play Store using your smart phone.
REGISTERING ON THE APP
Download, install and run the app. Click on Register New Account on the home Screen and complete the details.
Register on the SAMWUMED website Member Login/Registration page.
HOW TO LOGIN TO THE APP
Enter your username and password for the Member Login on the SAMWUMED Website
Enter the username and password created on the app Registration.
RESETTING A PASSWORD
Follow the below guidelines to successfully reset your Password:
In cases where you need to reset your password, you will receive an Email and/or SMS with your temporary password.
The App will automatically redirect you to the reset password page, where you will be required to enter the temporary password and the new password.
After completing all these details, you will be redirected to the login page where you will be able to log in.