Dear Member
The above matter has reference.
As you are aware, an elective Annual General Meeting ("the AGM Meeting") took place on 27 September 2019 in Cape Town. The AGM meeting was successful.
In line with Rule 24.2.11 of the registered SAMWUMED Rules, I caused the votes received back from the members' ballots to be counted by the Elexions Agency, being the Independent Electoral Body, which was responsible for the process of nomination and election of trustees. The Scheme's Auditors, SNG Grant-Thornton have verified the outcome of the voting process. I confirm that the voting process has been declared free and fair by both organisations. I am now obliged to inform Members of the outcome of the voting process.
In this regard, please note the candidates who have been nominated are as follows:

SAMWUMED 2019 BOARD OF TRUSTEES
NAME
SURNAME
PROVINCE
Member Elected
 
 
Sharon
Dube
Western Cape
Nandipha
Bhozo
Gauteng
Lindani
Sibiya
Gauteng
Mampho
Marule
Limpopo
Nadine
Simons
Western Cape
Mthokozisi
Nzuza
KwaZulu Natal
CEC Elected
Annah
Ntuli
Gauteng
Benjamin
Mdhluli
Northern Cape
Ntombizodwa Priscilla
Ntsuba
Gauteng
Sipho Timothy
Kwanyana
Gauteng

In line with Rule 24.1.2.1 and 24.1.2.2, the first 6 (six) members in the list above constitute the new SAMWUMED elected trustees who were nominated and elected by Members of the Scheme by ballot, with one of them being a pensioner.
In relation to the remaining 4 (four) members of the Board of Trustees, Rule 24.1.2.3 requires that the Central Executive Committee (CEC) of SAMWU must appoint such 4 (four) members. The four newly appointed CEC Board members are now also listed above.
I trust that you find the above in order.
Yours faithfully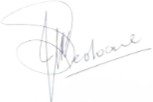 Mr Joe Seoloane